Why Suunto 5 Peak is the ultimate upgrade for Suunto 3 users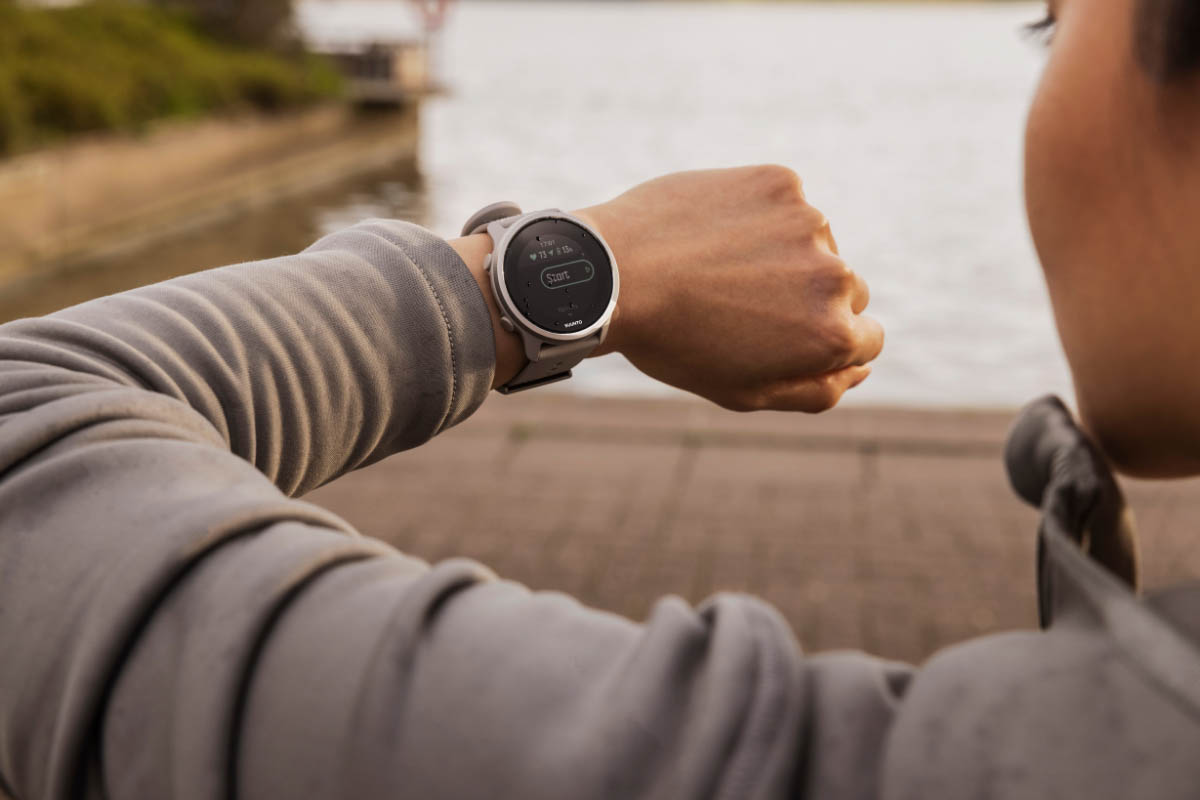 The new Suunto 5 Peak is a compact GPS multisport watch, designed to help you take care of your body and mind every day. Explore a wide range of practical features that support versatile workouts and your overall well being. This lightweight sports watch is equipped with more than 80 training profiles, wrist-based HR measuring, sleep and activity tracking, stress monitoring and so much more.
The versatile range of GPS supported navigation features and durable design make this sports watch a great fit for those with a passion for the outdoors. Download routes onto your watch and stay on the map, even when you choose to leave your phone at home.
Suunto 5 Peak is a modern sports watch with a slim design that sits comfortably on your wrist from morning till night. The high-quality materials and water-resistant design offer a practical fit that you can wear with confidence in any type of weather.
Because of its versatile and easy-to-handle features, this sports watch is a great choice for users of any fitness level. However, there's a specific Suunto favourite that came to our mind when reading more about this watch. Suunto 5 Peak is a great choice for anyone who has been happy using a Suunto 3 but would like to upgrade their watch with something offering more features. Let us tell you why!
---
5 reasons to choose Suunto 5 Peak
We think Suunto 5 Peak is the ultimate upgrade that Suunto 3 users have been waiting for. The two watches are similar enough to ensure a hassle-free switch, yet the new watch offers you a great deal of extra features that make the upgrade worthwhile. Worried about losing all your former workout data? By sticking to Suunto you can use the Suunto App and smoothly transfer your existing statistics onto your new sports watch.
But let's get down to the topic. Here are 5 reasons why Suunto 5 Peak is the perfect sports watch for Suunto 3 users.
1. Integrated GPS — maps and precision without your phone
Suunto 5 Peak is equipped with integrated GPS whereas Suunto 3 needs the support of your phone's GPS. A sports watch with integrated GPS allows you to collect precise data without the support of your phone. This is a practical function especially for those who like outdoor workouts. You can for example use the feature to track your speed and route during runs, cycling trips and hikes. Besides GPS Suunto 5 Peak also offers GLONASS, GALILEO, QZSS and BEIDOU allowing you even more precision.
Besides giving you access to more precise data, the integrated GPS also enables you to use a range of navigation and route planning tools. Explore the most popular routes near you on the Suunto app or plan a hike through the forest. You can easily synchronize your planned routes onto the watch for easy turn-by-turn navigation.
2. Better battery performance — less breaks for charging
Suunto 5 Peak offers you up to a week of battery life when used with 24/7 activity tracking and phone notifications. This is up to two days more than what you get with Suunto 3. Training mode and exact GPS are a little heavier on the watch's battery making it run quicker. In order to ensure you have as much battery time as you need, Suunto 5 Peak supports smart battery-saving features. This allows you to optimize energy usage according to your needs with up to 100 hours of GPS time in tour mode.
3. Outdoor features — for when nature is calling
Longing for more time in nature? Suunto 5 Peak is a great fit for those with a heart for the outdoors. The watch is equipped with features like GPS-altitude and practical navigation tools which support sports like climbing, skiing and orienteering. Altitude is tracked with the support of GPS allowing you to view the climbs and descents of your workout.
The versatile GPS supported navigation tools of Suunto 5 Peak especially come in handy when spending time outdoors. The watch automatically saves the starting point of your journey when the GPS tracking is activated. In this way, you can let the watch guide you back once it's time to head home.
4. Music controls and automatic updates — this one is all about convenience
The new Suunto 5 Peak automatically updates itself with new features and improvements whenever available. All you need to worry about is connecting your watch with the Suunto App now and then so the watch can download the needed information. Updates are always timed at night so you don't need to worry about it interrupting your workout plans for the day.
Music controls allow you to use the watch to choose your music and adjust your volume when listening to music on your phone. A few simple taps on the watch display is way more convenient than trying to get your phone out on the run.
5. An up-to-date design — because in the end we're talking about an everyday accessory
It's easy for a sports watch to become your go-to accessory that is worn day and night. And that's exactly why the looks and feel of your watch matter. Suunto 5 Peak is a lightweight and compact sports watch that looks and feels good on your wrist in any situation. At only 39g the watch is not much heavier compared to Suunto 3 (36g) despite its many extra features and superior battery life. Suunto 5 Peak is especially lightweight compared to other alternatives like Suunto 9 Peak (62g) and Suunto 5 (66g).
Choose your favourite from 6 modern colour alternatives. The watch strap is easy to change which allows you to update the look of your watch whenever you want. Browse our complete selection of Suunto 5 Peak, and order yours today.