Employees picks of the month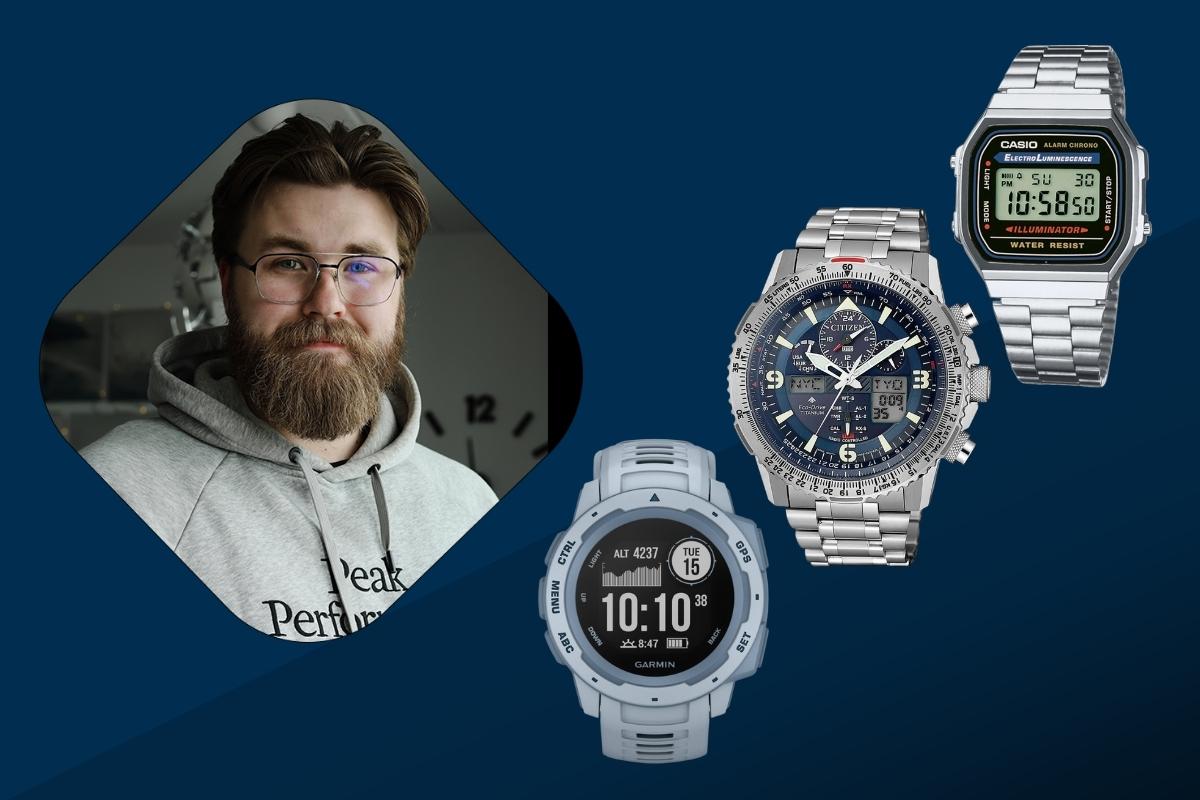 First pick is Casio's legendary A168WA.
This watch is very popular and common around the world, which is easy to understand. A quite attractive price, a simple and elegant design and nifty features make this a very competitive package for anyone. The steel-colored version is just one of the many variations in this collection, but it is one of the most understated and ubiquitous watches for every occasion.
An interesting detail about this collection is that it is also known as the Terrorist Casio, as the least expensive model F-91W in the collection has allegedly been used as a timer for various explosive devices.
This watch should not be viewed purely as the sum of its parts, as its overall profile offers much more than meets the eye. The construction of the model is quite light and even a little rattly in places. The steel bracelet is light and pleasantly flexible, making it also quite comfortable to wear. The 36 mm wide case is made of silver-coloured glossy plastic and it works elegantly with the bracelet and digital display. The display is simple and very clear to read. The features are quite intuitive and can be easily accessed using the three buttons on the watch. The design language of the watch is quite retro and timeless, with its angular design and simple dial.
The A168WA offers a lot of watch for a small price tag. The retro yet classic style is great for the home sofa, office or even for sports. The digital display is easy to read and the quartz movement ensures accuracy and carefree use.

A slightly smarter friend is the Garmin Instinct Sea Foam
Smartwatches and sports watches are growing in popularity, and there's no denying that smartwatches have some very handy features for everyday life. When deciding between smartwatches and sports watches, it's often the style and purpose of the watch that determines which category you end up in. Smartwatches and sports watches have many overlapping features, offering many of the same functions. Generally speaking, sports watches are slightly more durable and designed for hard work, while smartwatches prioritise more style and elegant looks. For me, the Instict is a good choice as it's quite competitively priced, has great battery life and a wide variety of features that are handy in my everyday life.
The Instinct has a comprehensive range of features to support sport and recovery, and I've been actively using them every six months when I go for a run or to the gym. Message and calendar notifications, incoming calls and easy-to-set timers are the main features I need and use from my smartwatch.
The Instinct's 45 mm body and its angular design sits perfectly to my preference and combined with the watches very comfortable strap, it's a very pleasant watch to wear from all day. The dial is clearly legible, and the features are very easy to use. Garmin's mobile app is a great support for using the watch and it's interesting to use it to explore the data measured by the different meters on the watch about the day's activity. There are a good number of different watch face designs to choose from, so you can choose the one that appeals to you the most.
The Garmin Instinct is a good choice for anyone considering a smartwatch and wants a competitive package of practicality, durability and good features.
My Garmin Instinct is the first version but the Instinct solar, Instinct2 and Instinct2 Solar models are largely improved versions of my own so I would highly recommend them. There is also an Instinct 2S version of the watch, which is a few millimetres smaller and therefore a bit slimmer.

The last pick is the Citizen Promaster Eco-Drive Chronograph Radio-Controlled Titanium JY8100-80L
Something I have long considered, is a high quality and carefree quartz watch. Citizen's selection is full of very good looking watches with comprehensive features that would be perfect for my needs. In particular, the titanium radio-controlled Eco-Drive JY8100-80L has piqued my interest.
Quartz watches are great companions for everyday life as they are always on time and you don't have to worry about running out of power reserve in the same way as with automatic watches. Citizen also offers a number of watches with Eco-Drive, which harvest their running energy from light. These watches collect light through solar panels on their dials, so there is no need to worry about running out of power even after years of use.
Promaster's have titanium case which is also very nice extra feature. Titanium as a material is attractive as it is significantly lighter than traditional steel and that way more comfortable to wear. Also, titanium has lower thermal conductivity, meaning that it feels warmer in winter and cooler in summer. The titanium case measures 45 mm in size and 13 mm in height.
The accuracy of quartz watches is also, in most cases, significantly better than that of traditional mechanical watches. Although quartz watches are more accurate than mechanical watches, it should also be remembered that there are differences in accuracy among quartz watches. Citizen's radio-controlled watches are among the most accurate, as they are linked to an atomic clock, according to which they automatically adjust their time. Of course, such a feature is not essential for everyday use, but for me, such features always make a watch a little more interesting and personal.
The Citizen JY8100 packs a convincing number of features into a stylish package and at a competitive price. Overall, the watch offers a great companion for everyday use thanks to its excellent features and high-quality construction.